Did you know that the electrical components of your vehicle are not powered by the battery? It is actually the alternator that does this! The battery is used primarily to start the car, but the alternator is what keeps your car going on the roads of Bloomfield. The alternator functions as a small belt-driven generator.
Common Alternator Problems
There are a variety of common symptoms that may indicate that your alternator is shot, or is close to failure. Any of the following might indicate a dying alternator:
A lit-up battery warning light on your dash
Dim headlights or dim interior lights
Problems charging devices using in-car power sources
Whining or screeching sound after the vehicle starts
Burning rubber smell coming from the hood
Vehicle not starting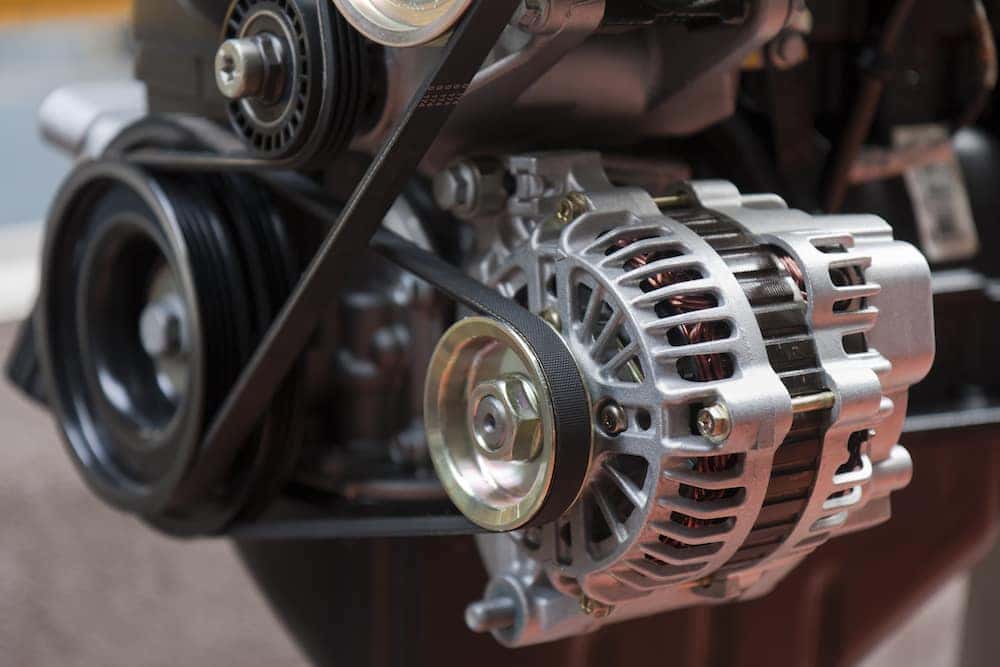 Failing Alternator vs. Battery
A large portion of these problems could indicate either a dead battery or a dying alternator. Contact our service center or, if you understand what you are doing, you can run some tests on your own to determine the source of the issue.
Now that you've answered the question, "What does an Alternator do," it's not hard to tell the difference. If your vehicle dies and you need to jump-start it, you will be able to tell if the source of the problem is the alternator or the battery. If you jump-start the vehicle, and it dies immediately after you remove the jumper cables, you're almost certainly dealing with a failing alternator. In the case that it stays on, your battery is most likely the problem.
What is the Lifespan of an Alternator?
An alternator is expected to last between 80,000 and 150,000 miles, which usually lies in the timeframe of 7-10 years. Note that if your vehicle is driven in highly strenuous situations, your alternator may need to be replaced or fixed sooner. If you choose aftermarket parts over genuine OEM equipment, you might have to replace your setup sooner as well.
How Much Does an Alternator Cost?
Alternator prices vary depending on the type of vehicle you drive, its age, and other various factors. However, you can contact Tamaroff Honda at (248) 653-1874 in order to get a free quote today! If we don't have the part you need in the store, you can order it online, and let us do the installation when it arrives.
Although we specialize in servicing Hondas, our team is able to work on multiple other makes. Let us know if you need help acquiring or installing a replacement alternator.
Tamaroff Honda is Your Source for Superior Service!
Our parts department at Tamaroff Honda is here to fulfill your parts and accessories needs. We've made it easy to schedule service and get help quickly. We're just a short drive from Troy or Canton.
More From Tamaroff Honda
There are few sedans that bring together the capacity, performance, and style to match the Accord configurations the engineers at Honda have designed for 2020. In many ways, the Honda Accord is its own rival, thanks to a wide range of trim levels that build up from a substantial set of standard features. Find out…

If you're looking to enhance your Bloomfield commute, then the new 2020 Honda Accord Sedan interior features are sure to impress. This outstanding sedan has the latest technology, comfort, and safety features to deliver a truly well-rounded ride. Learn more about the Honda Accord Sedan interior features with the automotive professionals at Tamaroff Honda. View Accord…

If you're shopping around the Bloomfield and Troy area for an SUV that has it all from performance, technology, comfort, and safety, you'll find what you need with the 2019 Honda CR-V configurations. Throughout this impressive lineup, drivers will have the option of two strong engines, a continuously variable transmission (CVT), along with extra strength…