How to Choose the Right Car Seat
Car Seat Age, Height, and Weight Requirements
The first things to consider when choosing a car seat are your child's age, weight, and height. The type of seat and direction children face changes as they get older, meaning you will own several different car seats throughout your child's early life.
Birth to Age 2: all children should use rear-facing car seats during their earliest years. Babies and young toddlers often sit in what's known as "bucket seats" due to the seat's shape, handle, and ease of carry. Each manufacturer will have different weight limits listed on their seat, so be sure to check accordingly and move your child up to the next level when appropriate.
Ages 2 to 4, no more than 40 pounds: at this stage, your child will begin facing forward, in a car seat that utilizes your vehicle's seat belt without crossing your child's face. Car seats at this stage raise your child so that the seat belt safely crosses their chest.
Age 4 to 8, up to 4 feet 9 inches tall: your child will now graduate to a booster seat. While young kids still need to stay in the back seat, this will be their last car seat use.
After age 8 or over 4 feet 9 inches tall: now it's time to use only your car's seat belt, but be sure to check the belt height on your child. The lap belt should hit their upper thighs rather than their stomach, while the shoulder belt should be at their chest, not their neck.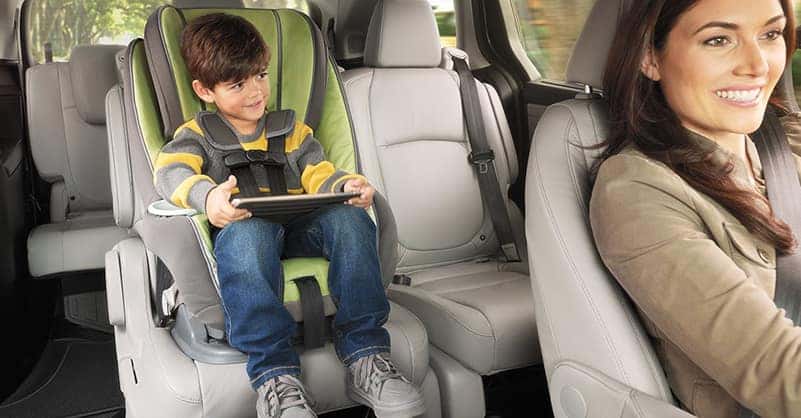 Car Seat Safety Requirements
Choosing the brand and model of your car seat is a little less straightforward, but doing some quick research into a few key factors will help you narrow down your search. Be sure to look for:
Safety ratings and labels: a four- or five-star rating will make your use easier and give you extra peace of mind
Five-point harness: for added protection versus a three-point harness
Buying new: experts always recommend buying a new seat
Stay Safe with Tamaroff Honda
Your Honda is packed with safety features, including forward collision warning, Honda LaneWatch, and more. To learn more about how the Honda lineup helps protect you and yours, visit Tamaroff Honda in Southfield, where our friendly, knowledgeable sales team can walk you through all the innovative safety and driver assist technology designed with your needs in mind.